Make your own wedding rings
At WMM wedding ring workshops couples can make their own in the comfort of the WMM Silver Studio at Taurus Crafts Visitor Centre, Lydney in the Forest of Dean under the expert guidance of experienced gold/silversmith Wendy. There is nothing so personal and unique as doing it for yourself and together – an experience which you can wear on your finger forever! The joy and satisfaction of having something so personal is priceless as the testimonials below show.
We start the day with a practice ring in silver. You will learn how to size, cut, file, and solder the ring then shape and polish them together and learn a little more about metallurgy and the process of goldsmithing (or silversmtihing if you prefer your ring in sterling silver). After having practised with silver, you then make your ring in gold.
After you have made your rings, we will ensure that they are perfectly polished to a fine shine and then be sent to the Birmingham Assay Office for hallmarking including the year mark.  This is included in the price and takes around one week to ten days to process.  You will receive your rings in a wooden luxury double ring box.
The cost of the workshop is £150 each (so one price of £300 covers the two of you) plus the cost of gold materials used. Typically for a P sized ring this works out at around £120 for 9ct gold.  You will be sent a ring sizer in advance to measure your fingers and so that we can order in the correct amount of gold. Silver rings do not incur any additional cost.
The workshop takes about 5 hours and you'll be kept in plentiful supply of coffee, tea and homemade shortbread.  You can either bring a packed lunch or take advantage of the delicious fare available in Taurus Crafts' restaurant.
Included in the price is a glass of cava to celebrate your make at the end!
To discuss your exact requirements and/or for a full quote and dates, please call Wendy of WMM on 07772 906203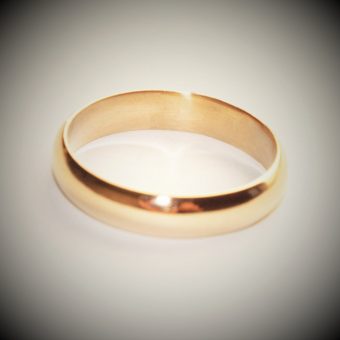 Paul and Helene
"We attended one of Wendy's workshops to make our wedding rings. We had decided that making one another's wedding ring for the special day was a more personal touch than just buying direct from a shop. What can I say – Wendy was attentive, engaging, informative, professional and I could go on with the compliments. We were initially greeted by Wendy with coffee and home made biscuits which is always a good start. We had a mornings ring making punctuated with a wonderful home cooked lunch. The afternoon session was much like the mornings teaching, fun, informative and rewarding. When the session finished we had two amazing wedding rings which exceeded any expectations we had prior to the course. Thank you Wendy for making it a special day – and thank you for the champagne 🥂 "
Sham
"Had a wonderful session making our own wedding rings with Wendy who was very helpful and patient as it was our first time working with metal. The end result was beautiful and felt good to have something so personal. 10/10 would recommend."
Laura
"Had such a great day with Wendy. Lovely, funny and patient teacher. It's also wonderful knowing that our wedding rings are something that we created. 5 stars! I would whole heartedly recommend, especially if you're looking for something special and personal."
Catherine Jane
"My fiancée and I were extremely lucky to make our own wedding rings with Wendy in a workshop today.
Wendy was patient, warm and highly skilled. We had a fantastic time and came away with the most beautiful rings that will mean so much to us throughout our lives together.
Thank you Wendy. You have added a little sparkle to our special day."