Sterling Silver Dangly Earrings
Sterling silver dangly earrings are light, elegant, fluid, barely noticeable to wear but stunning to watch their movement. They look stunning on either long hair or flowing freely on a short haired cut.  Measuring a 6cm drop, what's not to like when you wear these?
Limited stock available so grab them whilst you can!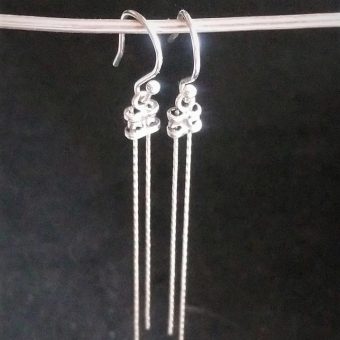 Your guarantee of authenticity:
All sterling silver jewellery from WMM Silver is hallmarked at the Birmingham Assay Office  if it is over 7.78g according to UK laws on assaying. You can read more on my page here on when and how this law evolved.  If you buy any silver jewellery in the UK that is named as such over this weight, you cannot be guaranteed of its purity and is being illegally sold as "silver".  This piece is under 7.8g so isn't required to be hallmarked.  I buy my bullion from the biggest and most well established supplier of sterling silver, gold and platinum in the UK.
Silver Care:
With the proper care and attention your WMM sterling silver jewellery should last a lifetime.  Read more on silver care on my page here.