Blakeney Silversmithing for Beginner 5-week course – SOLD OUT!
May 7, 2018 @ 6:30 pm

-

June 11, 2018 @ 9:00 pm

£20.00 – £100.00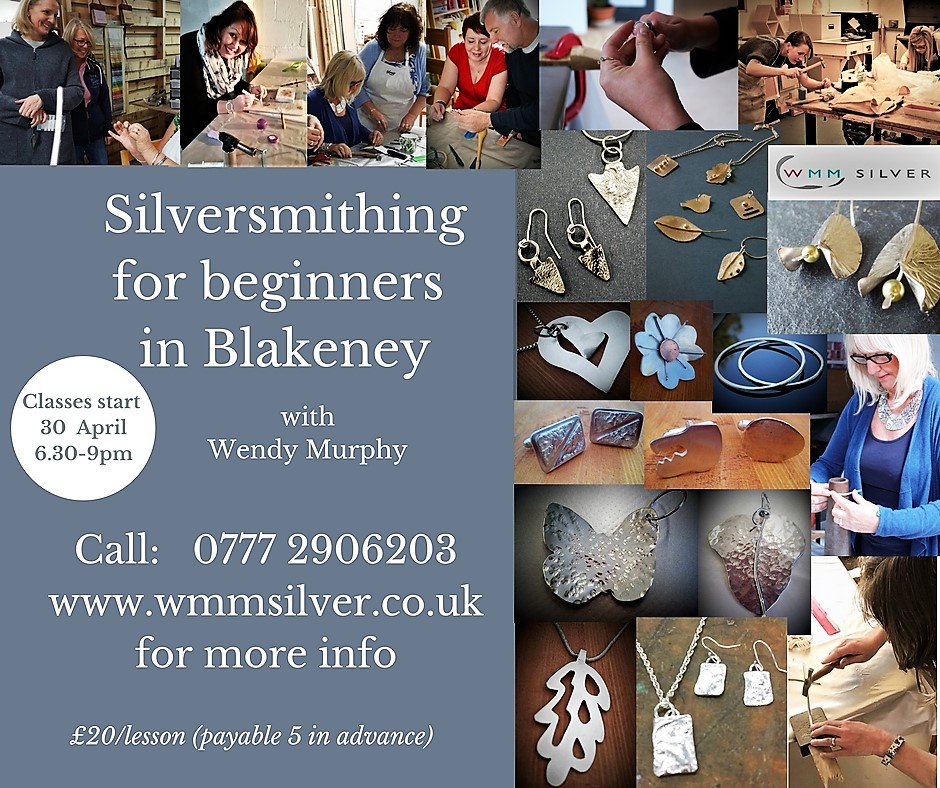 SOLD OUT!!!
If you are interested in the next course, or a one-off private workshop, feel free to contact me to discuss further options.  Sorry you missed out on this one!
EDIT:  The class will now begin on Monday, 7th June and run for 5 consecutive weeks in agreement with all students (there is a bank holiday near the end so if this doesn't suit everyone, we can carry the date over)
This class is designed for newcomers to the craft of silversmithing and will cover the  basics of designing, sizing, cutting, soldering and finishing sterling silver jewellery. In the first weeks we will cover how to size and make a ring and will follow on with various techniques that you can apply to make a pendant, bangle, keyring, earrings – you can decide and work at your own pace too. Wendy is an experienced silversmith and qualified tutor and has a vast range of skills to pass on.  The price includes refreshments, personal liability insurance and sundries used during the lesson (gas, solder, saw blades etc). Sterling silver is extra and sold at cost. (eg ring approx £4).   It's fun, friendly, and informative!    You can pay the non-refundable deposit of £20 now to secure your place or pay £100 for all 5 lessons in advance.  If enough learners are interested, this will roll over to another 5 weeks, ad infinitum.