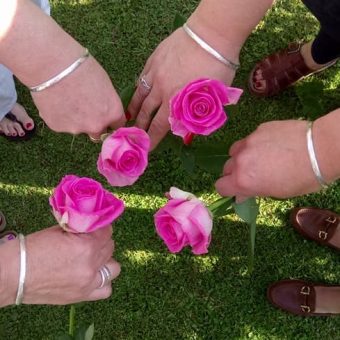 Silver Workshops
LOCK DOWN UPDATE 9th JUNE – Unfortunately a lot of workshops have been postponed due to the Covid lock down but I've not been idle during the last few months. I work with a number of venues around the country and have been liaising with them all to find a future date to reschedule your workshop. In some cases I've been able to do this, in others I'm still awaiting the go-ahead. Please see below if your workshop has been rescheduled and open up the page to see what you need to do to rebook on this date.
I have taken the following steps to ensure government health guidelines are adhered to: Workshops will be limited to 4-6 people (depending on size of room and facilities), I've bought more tools and equipment so that each student will have their own toolbox without the need to share with others. Some soldering equipment will have to be shared but alcohol wipes and gloves are provided to wear. Facemasks, gloves and in some cases face shields will be available. Students will work on their own table, set at a minimum of 2 metres apart. Demonstrations will take part at a distance with a digital link. Hand washing facilities will be nearby and encouraged. I hope this will allay any fears for you.
Here are NHS guidelines for social distancing:
https://www.nhs.uk/conditions/coronavirus-covid-19/social-distancing/what-you-need-to-do/
The past months have extremely difficult for many small businesses like mine so I thank you for your patience in bearing with me whilst I do what I have to do to ensure you are still able to enjoy your silversmithing experience.
With kind regards and wishing the best for your health and that of your families in this difficult time. Wendy WMM Silver 07772 906203
WMM Silver workshops are an ideal opportunity for you to take time out from your busy lives and explore making sterling silver jewellery for yourself. I run regular classes and one-off silver jewellery workshops around the country. Silver jewellery workshops are suitable for individuals, for couples to make wedding rings and/or for groups of friends celebrating a birthday, a special event and hen parties. These are fun, friendly and very informative.
I am a qualified teacher (B.Ed Hons) and an OFSTED graded outstanding tutor within Adult Education but most of all I'm PASSIONATE about delivering these workshops to those eager to learn. I love seeing learners achieve more than they thought possible in just a few short hours and how they walk a little taller and with huge smiles on their faces at their accomplishments.
Detailed descriptions of the workshops can be found on the individual dates or click here to read my blog on making a silver ring or bangle. Would you like to organise a silver jewellery workshop in your area? Then please contact me for a quote. Rather than me tell you just how enjoyable my silver jewellery workshops are, have a look at the lovely testimonials at the bottom of the page.
Rowan, Ledbury, May 2018
I spent a fabulous 3 hours crafting my very first sterling silver bangle and have worn it everyday since! Wendy is a warm and inspiring talented artist. I am 'hooked and I am signing up for more.
Loura, Stroud. March 2018
"Wonderful silver jewellery workshop today making a beautiful bangle. Thoroughly enjoyable and I hope to attend another class as soon as possible. Wendy is a great teacher, thanks so much for the opportunity."
Yvonne, Woolaston . April 2017
"I have spent a lovely morning making a silver bangle at one of Wendy's silver jewellery workshops. I am so pleased with the result! Thank you Wendy. You were very patient, informative and generous."
Catherine and Craig, Abergavenny April 2017
"My fiancé and I were extremely lucky to make our own wedding rings with Wendy in a silver jewellery workshop today. Wendy was patient, warm and highly skilled. We had a fantastic time and came away with the most beautiful rings that will mean so much to us throughout our lives together. Thank you Wendy. You have added a little sparkle to our special day."
Pip, Painswick February 2017
"I have just made a lovely silver bangle at a silver jewellery workshop at the ACP Gallery in Painswick, run by Wendy, who was so patient with us! Fabulous afternoin! Thank you "
Jayne, Cotswolds. February 2017
"Fantastic morning. Highly recommend one of Wendy's courses. Wendy is a lovely lady, her knowledge is outstanding and she was so patient.. The bangles we made are wonderful and it was an added bonus to be able to personalise the inside (thanks). A fantastic morning with a fantastic keepsake. It would also make an ideal party experience for a small group."