Gloucester Milestones (now 2&6 Therapy Rooms)- Ring/Bangle postponed from 25 April to 8 Aug or 5 Sept
August 8, 2020 @ 10:00 am

-

1:00 pm

£25.00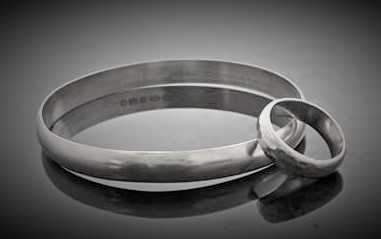 UPDATE 15th June:   We are now able to offer this workshop to those who had booked on to the 25th April date, to either 8th August (10am) OR 5th September (2pm) at a different venue but still in Gloucester at the lovely 2&6 Therapy Rooms, Wainbridge House, Shepherd Rd, Gloucester GL2 5EL. There is plentiful parking and the workshop will be held in a large meeting room on the ground floor. The class size has been cut to only four people, thus minimising any health and safety risks. There will be supplies of sanitiser, gloves, alcohol wipes and masks if required.  PLEASE contact me to let me know which session suits you best but if you can make either, that makes my job easier too!  Thank you for waiting and your patience. Wendy
Silver Ring or Bangle Workshop
Come and make your own personalised sterling silver ring or bangle at this informative and fun class at Milestone School, Gloucester (precise directions will be emailed to you).
During the workshop, you will be taught all the skills you need to size, cut, file, solder and polish your ring or bangle by expert silversmith and tutor, Wendy Murphy from WMM Silver.
You can add stamped lettering inside and hammer a texture.
Always enjoyed with very proud and satisfied customers – this is suitable for beginners.  The workshop price includes all materials and homemade cake and limitless tea and/or coffee.  There is plenty of free parking on site.
Price:  to make a ring is £65, to make a bangle is £78. Tickets are limited to 8 – pay a deposit* of £25 and pay the difference for a ring (£40 balance) or bangle (£53 balance) on the day.
* please note that due to our own costs, the deposit paid by you is unrefundable unless a replacement student for the workshop can be found.
Here's a little explanation of what goes on at this workshop and some images of previous students' work.  "Make your own"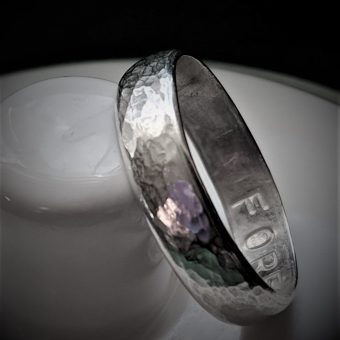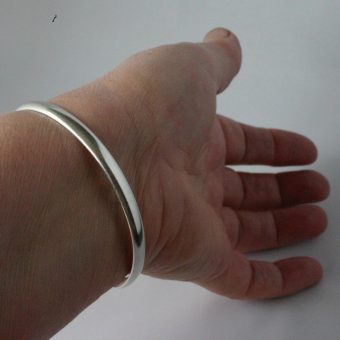 Sizing
If you are making your ring or bangle for someone else it's important you try to find out their size...
For a ring:  Bring either a ring that fits the person with you, or get their ring size measured at a jeweller, or wrap a study piece of wire around their finger and twist. It should go on and off easily. Bring the "ring" with you on the day.
For a bangle:  Bring either a bangle that fits or measure from the middle of the outside knuckles of their hand when clenched. It should fall between the range of approx 60mm to 70mm. Average is 66mm.