Lydney – Taurus Crafts – Etched Jewellery – 21&27 January – 4 PLACES LEFT
January 21, 2024 @ 10:00 am

-

3:30 pm

£25.00
ETCHED JEWELLERY
THIS WORKSHOP IS BEST SUIITED TO ANYONE WHO HAS PREVIOUSLY ATTENDED A SILVER JEWELLERY MAKING WORKSHOP WITH ME OR ELSEWHERE.
This is a one-off chance for you to have a go at making and etching some amazing sterling silver jewellery. You can use existing drawing skills or you could just do some "blobbing" and random pattern on your jewellery piece. You really don't have to have any artistic skill at all to create an amazing effect by the process of etching.  This is how it goes:
 You choose whether you'd like to make a bangle or a pendant
Cut your piece out (for a pendant), or solder the bangle or ring together
You cover your piece in a resist in the places you don't want the etching to eat into the silver.
At this point, the first workshop is now finished. I take the piece away to immerse it for 48 hours into an acid bath.  At the second workshop you clean the piece up, sand any joins (in the case of a bangle) or create a hole and bail (in the case of the pendant), oxidise the etched out pattern and polish.  Here are a few examples of what is possible: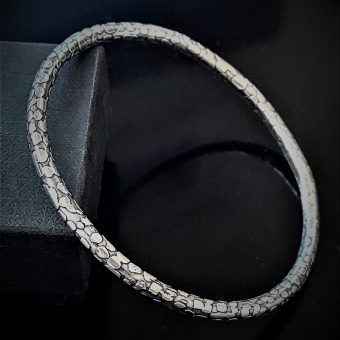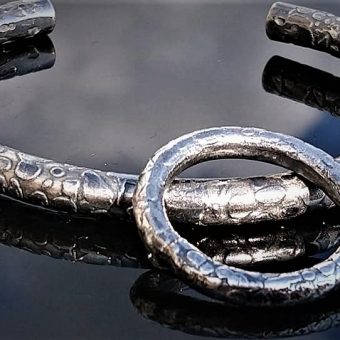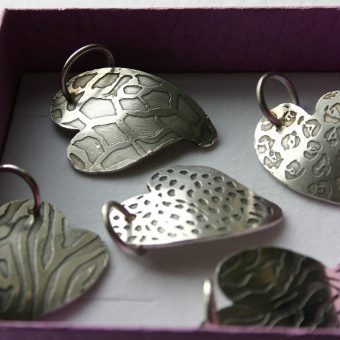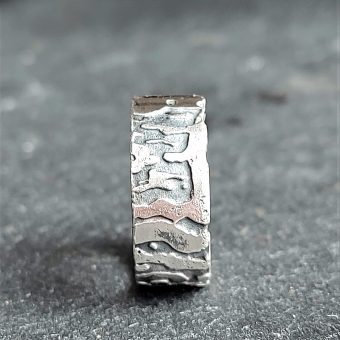 The cost of the workshops is £145 (bangle) and £138 (pendant)  and £133 (ring) for both sessions and includes silver used. I will discuss your preferences with you a couple of weeks before the workshop.
IF YOU CANNOT MAKE THE SECOND DATE, I CAN REARRANGE TO SUIT YOU…