Silver Pebbles Pendant
Do you dream of sitting on a pebbled beach, throwing small stones at the stack of pebbles you've just built, or maybe just looking at it contemplating life, listening to the lully swoosh of the waves? Do you remember those lazy, hazy days of summer?  Now you can recreate that stack of rocks with your own unique silver pebbles pendant whilst looking forward to a return to that idyllic time out at the seaside.
This gorgeous silver pebbles pendant is made from recycled silver – the offcuts and waste of sterling silver pieces and  measures approximately  23mm high.  Included is an 18 inch silver chain. If you would like a longer chain the price is an additional £2 per inch. Just let us know here.
Make someone's day with this inexpensive, but weighty organic looking pendant. See the reviews for feedback!
You can also wear this gorgeous pendant with our recycled silver pebbles earrings – have a look HERE.
Delivered in an organza bag to keep it safe from tarnishing.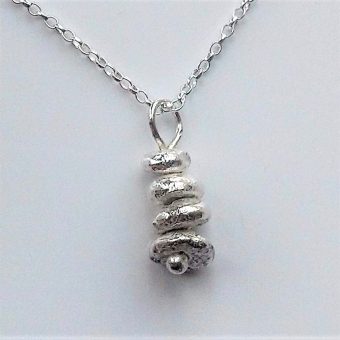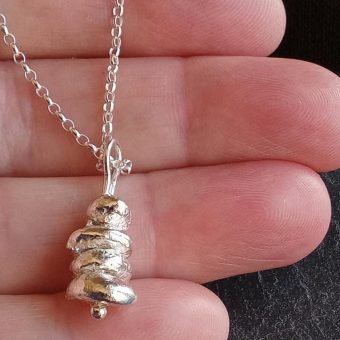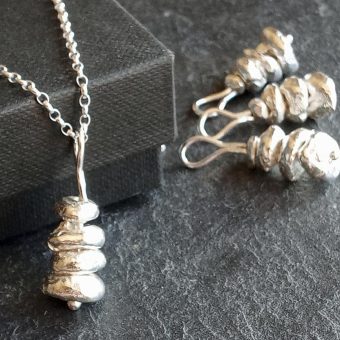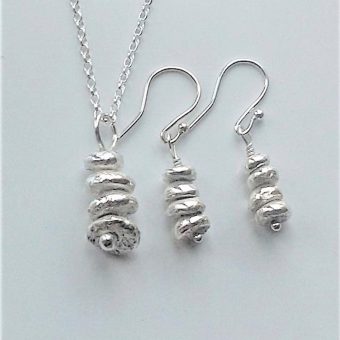 Your guarantee of authenticity:
All sterling silver jewellery from WMM Silver is hallmarked at the Birmingham Assay Office  if it is over 7.78g according to UK laws on assaying. You can read more on my page here on when and how this law evolved.  If you buy any silver jewellery in the UK that is named as such over this weight, you cannot be guaranteed of its purity and is being illegally sold as "silver".  This piece is under 7.8g so isn't required to be hallmarked.  I buy my bullion from the biggest and most well established supplier of sterling silver, gold and platinum in the UK.
Silver Care:
With the proper care and attention your WMM sterling silver jewellery should last a lifetime.  Read more on silver care on my page here.